Limited to 10 participants
Ready to treat your game like a real business? Want to make enough dough to fund your next idea? Never dreamed that you could do what you love and sustain yourself?
Get hands-on, step-by-step help from the Bento Box team to get you organized, prioritized, and inspired with ideas about how you can maximize the return on your creative and technical efforts.
This isn't (necessarily) about going big. It's about defining success for yourself and using available resources to go after it—whether that means not worrying about paying the rent while you focus on development for a year or winning a Game Developers Choice award while keeping your day job.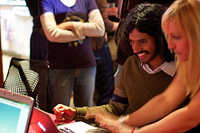 Who's this for?
Independent game designers and developers – just starting or with a few projects under your belt
Tweet